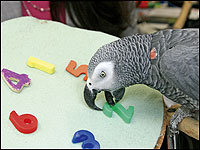 I was saddened when I heard that Alex died on TV. You see Alex is an amazing Congo African Grey parrot; he is a world-famous bird and he ain't no birdbrain (or may be he is)…
I first saw Alex in a documentary and I was in awe by his abilities. Alex was a research subject of Professor Pepperberg at Brandeis University in Massachusetts since the '70's. Parrots in general have good vocal mimicry, but African greys are the best talkers of all parrots. Alex, no exception, was a very good talker with very clear vocalization. But he does more than mindless vocal mimicry ala "Polly wants a cracker"– he actually communicates with words like no other animals I've ever seen. He was living proof that language isn't only limited to humans.
Using a technique called model/rival developed by Deitmar Todt, a German expert in animal behavior, Pepperberg taught Alex amazing abilities. Alex can identify different objects, grasped the concept of same & different. He can distinguish objects by colors, sizes and shapes. As I recall from the documentary, Pepperberg would hold 2 keys of different sizes and asks him "what's different?" Alex replied "sizes." He did the same with blocks with different colors and shapes!
Recently, Alex learned to count. Presented a tray of 18 different items, Alex'd mentally separate and count items based on colors! He even understood the concept of zero. When asked how many items of a particular color that isn't on the tray, he replied "none."
Learning about Alex inspired me to get my own bird Bongo many years go. Bongo was smart and very vocal but we had to give him away when we have our girls…
Goodbye Alex…