Our beautiful Katelyn is turning 8 this coming Saturday. I am having trouble believe it myself. I do wish time would slow down a bit sometime.
We asked her if she wanted us to throw her a party, but she doesn't want one. So instead, we're planning a few special family things with her. We'll start off with watching Ovo in Downtown. It's a surprise so don't tell her… We'll then have a dinner at her favorite place: Benihana. We'll then cap it with a trip to Tahoe for a few days of fun in the snow.
I'd really appreciate if you can write a short birthday wish for her as a comment to this post. I'll make sure to show it to her on her birthday.
It will make her day! Thanks…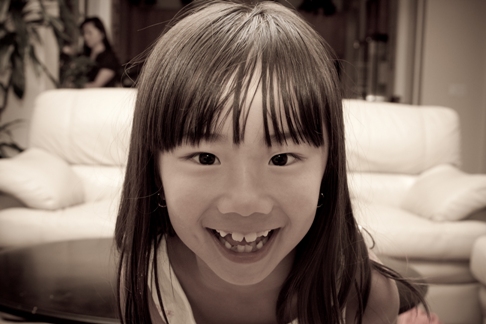 The picture above is an accidental picture. It was Suzanne's birthday and I was setting up my camera on a tripod and was firing some test shots for a family portrait when Katelyn sneaked up in front of the camera. I fired the shutter and caught her. It turns out to be one of my favorite candid shot of Katelyn last year!